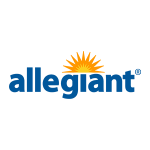 Allegiant Air (Station Operated by Port City Air)
Since 1999, Allegiant Air has linked travelers in small-to-medium cities to world-class vacation destinations, with all-nonstop flights and industry-low average fares, as well as hotel rooms and rental cars available exclusively through the company's website, Allegiant.com. Today, Allegiant continues to grow and serves more than 550 routes across the country with bases in 18 cities.
As a Customer Service Representative for Allegiant Air, you will have a front-row seat in the exciting aviation industry, and get to meet people from around the world.
Our CSRs provide professional and courteous service to flight crews, passengers, and co-workers and assists as needed to provide essential support services. We are looking for candidates with excellent communication and people skills for this position. Responsibilities include:
Greeting passengers upon arrival and departure and making them feel welcomed.
Administering proper paperwork for passengers.
Assisting with baggage and any disability accommodation needs.
Coordinating aircraft services with Line staff.
Responding to questions and concerns as appropriate
Job Requirements
Previous aviation experience helpful
Exceptional interpersonal skills.
Excellent written and verbal communication.
Excellent time management and organizational skills.
Conflict resolution experience.
Patience and excellent listening skills a must.
Courteous and polite to guests and co-workers alike.
Ability to work a flexible schedule as we are a 24/7/365 operation.
Ability to lift up to 50 lbs and assist a passenger in a wheelchair
Pass background check/ drug test.
Possess a current Driver's License.
High school diploma or GED.
Port City Air is an Equal Opportunity Employer. All qualified applicants will receive consideration for employment without regard to race, color, religion, sex, sexual orientation, gender identity, national origin, disability, or status as a protected veteran or any other characteristics protected by local, state, or federal laws, rules, or regulations.