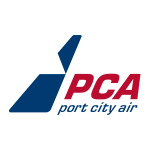 Port City Air
Port City Air is a bustling Fixed Base Operator and Maintenance and Repair Facility located at Pease International Tradeport in beautiful Portsmouth, New Hampshire. Due to some amazing growth, we are seeking full time and part-time individuals who value hard work, respect for all people, and who work well in a team based environment. We're looking for motivated individuals to join our family in a variety of exciting roles that will give you a front row seat to experience nearly every kind of operation the aviation industry has to offer.
Port City Air, a busy FBO/Maintenance and Repair facility at Pease International Tradeport in beautiful Portsmouth, NH is looking for qualified and motivated piston and turbine helicopter technicians. The technician will be responsible for inspection, maintenance, and repairs of helicopters (airframe, engine, and components) in accordance with the Port City Air repair station manual, manufacturer's manuals, and FAA regulations.
Flexibility to perform Inspections and maintenance on GA aircraft, corporate aircraft, and occasional line maintenance on Airbus, Boeing, MD, etc. airliners as required is preferred. Must be self-motivated and have the ability to lead and complete assigned projects with minimal supervision.
Job Requirements
At least three-five (3-5) years of prior experience.
Prior helicopter experience, preferably with one or more of the following makes: Airbus Helicopters/Eurocopter, Leonardo Helicopters/Augusta, MD Helicopters, Robinson. Bell.
Factory schooling, prior corporate, or GA experience preferred.
Good attention to detail.
Ability to understand and interpret aircraft technical data.
Ability to effectively communicate in English.
Ability to achieve established goals by working with others as part of a team, including working with/in other departments (Reciprocating, Turbine, and Avionics) as manpower requires.
Valid and current Airframe and Powerplant Certificate.
Valid Driver's License.
Reliable transportation.
Port City Air is an Equal Opportunity Employer. All qualified applicants will receive consideration for employment without regard to race, color, religion, sex, sexual orientation, gender identity, national origin, disability, or status as a protected veteran or any other characteristics protected by local, state, or federal laws, rules, or regulations.