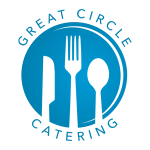 Great Circle Catering
Great Circle Catering is looking for dynamic individuals to join our team of servers and cooks in our unique array of food service arenas including a state-of-the-art Mobile Food Kitchen, a newly renovated and heated Food Truck, Tap Truck, and Airport Café.
You will be responsible for providing customers with food, beverages and most importantly, great customer service. Cooking and/or Taking orders and serving. Working quickly and efficiently. Maintaining cleanliness of work areas. Multitasking and anticipating needs.
This is a perfect opportunity for someone looking for something different with a flexible schedule, that enjoys both autonomous and team work environments.
DUTIES AND RESPONSIBILITIES
Provide customer service
Provide information to customers on products being offered
Make recommendations
Be sensitive to dietary restrictions, allergies and special needs
Take orders in a prompt manner and ensure steady flow of service
Maintain cleanliness of working areas and attire
Follow proper cash register procedures; record sales information for audit and balance
Prepare and/or serve food and beverages
Restock inventory
Complete inventory count after every shift
Other duties as assigned
REQUIRED SKILLS/ABILITIES
Proven Customer Service Experience
Cash Handling Experience
Food Service Experience/ TIPS Certified highly desirable
Exceptional Interpersonal skills
Ability to remain calm and courteous under pressure
Attention to detail
Excellent verbal communication
Ability to learn/ use POS systems
Excellent time management and organizational skills.
Good attention to detail.
Valid Driver's License with clean record
Must pass drug screening
PHYSICAL REQUIREMENTS
Ability to lift, carry, push and pull up to 30 lbs.
Ability to stand for long periods of time
Flexibility in working varied shifts, early morning and evening
BENEFITS (for FT employees)
8 paid holidays
Anthem medical (includes vision)
HSA
401k after 90 days of employment (no company contribution)
$15,000 company paid life insurance
Company paid short-term disability coverage
80 hours paid vacation, accrued weekly at 1.53 hours per week
Up to 56 hours of sick time. One (1) hour of sick time to be accrued every thirty (30) hours worked.