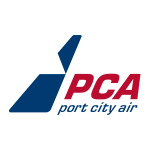 Port City Air
Port City Air is a bustling Fixed Base Operator and Maintenance and Repair Facility located at Pease International Tradeport in beautiful Portsmouth, New Hampshire. Due to some amazing growth, we are seeking full time and part-time individuals who value hard work, respect for all people, and who work well in a team based environment. We're looking for motivated individuals to join our family in a variety of exciting roles that will give you a front row seat to experience nearly every kind of operation the aviation industry has to offer.
As a Customer Service Representative at Port City Air, you will have a front row seat in the exciting aviation industry, and get to meet people from around the world. Our Customer Service team provides professional and courteous service to flight crews, passengers and co-workers and assists all PCA departments to provide essential support services.
We are looking for highly organized candidates with excellent communication and people skills for this position. Customer Service Representatives are responsible for providing front desk services to guests, undertaking various administrative duties, and always providing a warm welcome and friendly greeting to our clients. The best Customer Service Representatives will have tremendous patience when dealing with guests and accommodate their every need with enthusiasm and poise.
Job Responsibilities
Greeting guests upon arrival and making them feel welcomed.
Administering proper paperwork for guests.
Providing front desk services to guests.
Answering phone and radio calls.
Processing payments.
Coordinating aircraft services with Line staff.
Being a source of information to guests on various matters such as transport, hotel and restaurant advice. Book rooms and car rentals.
Accommodating general and unique requests.
Defusing conflict or tense situations with guests.
Job Requirements
High School Diploma or GED
Previous aviation experiance helpful
Certificate or diploma in hospitality advantageous.
Exceptional interpersonal skills.
Excellent written and verbal communication.
Good time management and organizational skills.
Conflict resolution experience.
Patience and good listening skills a must.
Courteous and polite to guests and co-workers alike.
A flexible schedule, we are 24/7/365.
Pass background check/ drug test.
Possess a current Driver's License.
Benefits
401(k)
Disability insurance
Employee assistance program
Employee discount
Flexible schedule
Health insurance
Health savings account
Life insurance
Paid time off
Parental leave
Referral program
Tuition reimbursement
Vision insurance
Port City Air is an Equal Opportunity Employer. All qualified applicants will receive consideration for employment without regard to race, color, religion, sex, sexual orientation, gender identity, national origin, disability, or status as a protected veteran or any other characteristics protected by local, state, or federal laws, rules, or regulations.