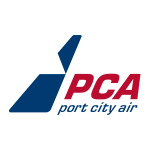 Port City Air
Port City Air is a bustling Fixed Base Operator and Maintenance and Repair Facility located at Pease International Tradeport in beautiful Portsmouth, New Hampshire. Due to some amazing growth, we are seeking full time and part-time individuals who value hard work, respect for all people, and who work well in a team based environment. We're looking for motivated individuals to join our family in a variety of exciting roles that will give you a front row seat to experience nearly every kind of operation the aviation industry has to offer.
This is a role involving accounts receivable, entering credit card charges, and entering fuel inventory.
DUTIES AND RESPONSIBILITIES
Reconciling processed payments through verification of entries and other supporting documents to balances.
Recording and tracking all credit card charges and expenditures, including invoices and statements.
Weekly AR review.
Follow up on past-due accounts to collect on payments.
Maintaining the accuracy of historical data and records.
Providing support in audit and tax preparation.
Correspondence with customers, creditors and vendors regarding payment schedules, outstanding credits and other finance-related inquiries.
Preparing an analysis of accounts and other monthly reports.
Addressing any billing discrepancies.
Generating reports.
Recording of fuel inventory deliveries and reconcile against accounts payable invoices.
Filing and organization of all backup documentation.
Continuous improvement of the payment process.
Other duties as assigned.
REQUIRED SKILLS/ABILITIES
3+ years accounting experience
Exceptional interpersonal skills.
Excellent time management and organizational skills.
Computer experience – QuickBooks, MS Office, other Accounting Software
Demonstrated technology and analytical abilities
Work well in a team environment
Attention to detail is a must
Ability to communicate with supervisors, co-workers and customers in a highly respectful manner
Good attention to detail.
Excellent written and verbal communication.
Valid Driver's License.
Reliable transportation.
Must pass the FAA and Homeland Security background checks as well as complete a pre-employment drug screening.
PHYSICAL REQUIREMENTS
Ability to sit for long periods of time.
BENEFITS 
8 paid holidays
Anthem medical (includes vision)
HSA
401k after 90 days of employment
$15,000 company paid life insurance
Company paid short-term disability coverage
80 hours paid vacation, accrued weekly at 1.53 hours per week
Up to 56 hours of sick time. One (1) hour of sick time to be accrued every thirty (30) hours worked.