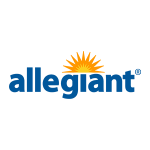 Port City Air
Since 1999, Allegiant Air has linked travelers in small-to-medium cities to world-class vacation destinations, with all-nonstop flights and industry-low average fares, as well as hotel rooms and rental cars available exclusively through the company's website, Allegiant.com. Today, Allegiant continues to grow and serves more than 550 routes across the country with bases in 18 cities.
Port City Air partners with Allegiant Air at Portsmouth International Airport at Pease to provide customer service and ramp agent support for customers flying and out of Portsmouth.
We are hiring a part-time individual as a Ramp Agent who values hard work, respects all people, and who works well in a team-based environment. If this sounds like you, please read on.
Job Responsibilities
Provide ground service for all sizes of aircraft, for example: marshaling to the parking area, refueling, servicing water systems, ground power units, towing, and deicing.
Perform the day-to-day housekeeping and grounds-keeping for a wide range of airport facilities.
Must be physically capable of safely working with and around various types of equipment while outside in all types of weather, day or night.
Night, weekends, bad weather and holiday hours could be required as part of the normal work schedule.
Job Requirements
Solid oral and written English communication skills.
Demonstrate the ability to communicate with supervisors, co-workers, and customers in a highly respectful manner.
Valid driver's license with a clean driving record.
Ability to pass FAA and Homeland Security background checks and routine drug and alcohol screenings.
Must be able to meet physical requirements including handling and pushing up to 75-100 lbs frequently.
Must have reliable transportation.
Aviation experience is preferred but not mandatory, training will be provided.
Benefits
Flexible scheduling
Allegiant flight benefits after three months of employment.